Top message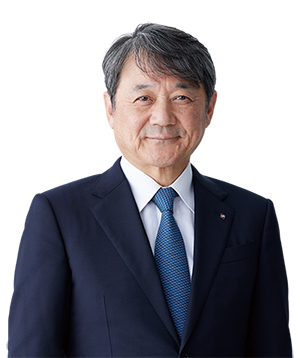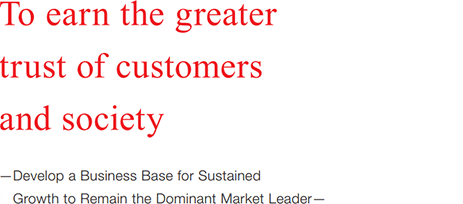 Introduction
We sincerely appreciate your continued support for Nippon Life.
I assumed my new role as President on April 1, 2018.
Since Nippon Life was founded in 1889, we have based our life insurance operations on the core corporate philosophy of "co-existence, co-prosperity and mutualism." We have striven to manage the business in ways that maximize benefits for our customers, based on the precepts of conviction, sincerity and endeavor, and made efforts to conduct sound management from a long-term perspective. As we celebrate the Company's 130th anniversary in July 2018, we remain committed to developing the business with sincerity so that we can provide peace of mind to customers while earning their greater trust and that of society in general.
New Management Targets
The conditions faced by Nippon Life and the Japanese life insurance sector include many structural changes. The structure of society is changing as the population falls amid progressive aging. An ultra-low interest rate environment is prevailing under the Bank of Japan's negative interest rate policy. Digitalization and advanced IT are also spurring rapid developments. All these changes are having a significant impact on our business and profits.
  Despite this harsh business environment, we do not see the life insurance market in Japan contracting in the future. In contrast, we expect people's need for life insurance to diversify and expand, with the keywords being longevity, health, activity (most notably involving women and seniors), and wealth creation.
  The Nippon Life Group aspires to lead the way in an era when many will live to be 100 years old. Upon my appointment as President, I have set a new goal for us to develop a business base for sustained growth so we can remain the dominant market leader.
  This goal incorporates two concepts. The first is that we must approach change in a positive way. Change is not to be feared simply because it is significant in nature. Instead, it is essential that we change in positive ways to create new sources of growth so we can reinforce our financial position and build a stronger business base. The second concept is the need to build greater trust with customers and society in general.
  Our most important duty is to fulfil the responsibility to provide insurance that was entrusted to us by our customers, regardless of the situation. This involves listening sincerely to customer feedback and to the demands of society so that we can promote more customer-oriented operations. Ibelieve it is Nippon Life's role to drive the evolution of the life insurance industry on various fronts through our products and service development, asset management, and utilization of advanced IT.
  We have formulated three specific strategies to achieve the new goal: strengthening profitability, operational and business reform, and the promotion of Group management. These strategies apply to all the Nippon Life Group businesses.
Specific Strategy [1]: Strengthening Profitability
The first specific strategy is strengthening profitability. Our aim is to bolster Nippon Life's profitability from both sales and asset management perspectives, based on channel strategies and product strategies.
Sales and Service Channels
We are targeting increases in market share via growth in our customer base. To achieve this, we will continue to strengthen the Nippon Life salesforce at the heart of our sales representative channel, which constitutes our greatest strength.
  Since 2007, we have ensured that a Nippon Life sales representative meets once a year with each customer individually to discuss the details of policies and find out whether the customer has been hospitalized or had surgery since the previous visit. Going forward, we will continue to have our 50,000-strong salesforce conduct face-to-face meetings with customers to provide highly detailed customer service. To maintain and improve the level of service, we plan to upgrade the curriculum for initial sales representative training. The Human Resource Development Department will also provide an integrated training support system as part of improving the knowledge and activities of our sales representatives. Across the whole of Nippon Life, our efforts are focused on improving sales activities in terms of both quality and quantity.
  We are also seeing sales channels other than the sales representative channel come to the fore due to population trends, changing lifestyles, and greater diversity in the needs of customers. This is an area where we must respond to change. In practical terms, we will continue to develop various sales and service channels, including the network of Nissay Life Plaza retail outlets and the bancassurance channel that primarily services seniors and retirees requiring advice on inheritance or wealth creation. In addition, we are looking to secure an additional share in the market for walk-in insurance agencies, which allow customers to compare insurance policies on their own.
Product Development
Going forward, as customer needs evolve over time, we will continue to seek to develop products that are useful to customers and society.
  In April 2017, we introduced Platinum Phoenix as a long-term term life policy for corporate customers that includes a period of extensive accident coverage. This product has sold well. In October 2017, we introduced a critical injury policy without surrender value designed to pay monthly living costs if the insured cannot work due to hospitalization or in-home medical treatment. We also introduced the Dream Present variable insurance policy with survival benefits via financial institutions across Japan. Denominated in a designated foreign currency, this product facilitates earning higher yields available on foreign currencies, and is also designed for those customers wanting to make a gift while they are still alive. These examples show how we continue to find new ways to satisfy customers' precise requirements.

In April 2018, we launched the latest product in our Mirai no Katachi series. The Daijobu policy provides specific medical coverage for six lifestyle diseases and for organ transplantation. The Mirai no Katachi series extends to 13 different products, enabling customers to customize policies to their precise needs.
  In addition, after the revision of the standard mortality table in April 2018, we lowered expected mortality rates for our death protection products, including term life, dread disease, disability, and nursing care insurance policies. This resulted in a reduction in policy premiums across all age brackets.
  Going forward, we will build a product development set-up that can respond to increasingly diverse customer needs by developing a wide range of new products and services.
Asset Management
Despite ultra-low interest rates and other challenging aspects of our business environment, we will continue to work to strengthen profitability and adopt advanced asset management.
  As part of a globally diversified investment approach, we aim to improve stable long-term returns by investing in overseas bonds and credit instruments, as well as in new and growing fields.
  One area within new and growing fields is particularly noteworthy. Based on the fiscal year ended March 31, 2018 performance, we have increased our investment target for ESG bonds during the period for the fiscal years ended March 31, 2018 to 2021 from ¥200 billion to ¥700 billion. We have also raised the overall target for investments in new and growing fields from ¥1,500 billion to ¥2,000 billion.
  While targeting more advanced asset management in such ways, we are also working to reinforce our risk management. This involves efforts to mitigate a range of risks via stringent, forward-looking risk management methods based on compiling multiple risk scenarios that consider factors such as emergent geopolitical risks and surges in financial market volatility.
  We will also continue to fulfil our responsibilities as an institutional investor by upgrading our stewardship activities.
Specific Strategy [2]: Operational and Business Reform
The second specific strategy is operational and business reform.
  By utilizing digital technology and advanced IT, we are accelerating productivity improvements through more efficient operational and administrative processes.
  In particular, we are progressively introducing advanced IT to realize anticipated efficiency gains and reinforce our competitiveness. We aim to upgrade a wide range of operations, helping us make processes more efficient, support sales activities, improve customer interfaces, expand policy underwriting, and enhance our asset management capabilities. As one example of this, from April 2019 we plan to provide all our roughly 50,000 sales representatives in Japan with new tablets fitted with AI, OCR and other technology for more advanced service capabilities. This first upgrade in seven years will put Nippon Life ahead of the industry in terms of sales representative support. With this compact, highly portable business solution to upgrade out-of-office capabilities, we not only aim to improve convenience and service for customers, but also provide our people with the tools to develop new ways of working irrespective of location.
  The advanced IT revolution is inducing rapid change in the financial sector, where we are seeing new services based on FinTech as well as new entrants from different industries. To respond to these changes, we are sending personnel to Silicon Valley in the US to gain expertise. From the fiscal year ended March 31, 2019, we will also develop a new setup to provide flexible response capabilities in the FinTech field with the creation of the Innovation Development Office as a specialist in-house team.
  In these ways, we are trying to make existing operations more efficient while reforming the structure of business by shifting personnel and resources into productive and growth domains and seeking to create new businesses.
Specific Strategy [3]: Promotion of Group Management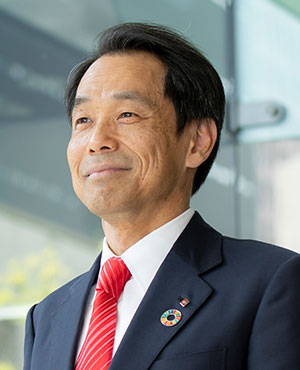 The third specific strategy is promotion of Group management.
  The ultimate goal for a mutual insurer such as Nippon Life is to maximize benefits for policyholders, and one way to achieve this goal is to pursue Group initiatives. Specifically, we are looking to foster synergies within the Group based around our life insurance and asset management businesses in Japan and overseas, while also targeting the development of Group operations. In this way, we aim to generate stable income based on a diversified business base, while leveraging the Group to provide customers with the best products and services.
  The merger with Mitsui Life has enabled us to offer a broader line-up of products to our customers based on cross-selling through our sales representative channel.
  The recent new merger with MassMutual Japan will give us immediate access to the bancassurance channel to supply products and upgrade the support we can give to financial institutions. Our aim is to continue meeting the needs of customers as a unified Group.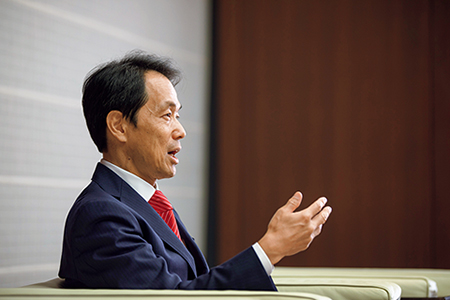 In July, we established a venture in preparation for the establishment of a new life insurer to target the agency business once we have secured the necessary regulatory approvals. This new company is expected to result in a total of four domestic life insurance businesses within the Nippon Life Group as we seek to provide customers with high-quality products and services.
  Turning to the asset management business, we acquired an equity stake in US-based TCW in the fiscal year ended March 31, 2018.
  The asset management business is highly compatible with our life insurance business. Going forward, we aim to strengthen the Group's asset management capabilities by outsourcing to TCW. We will also cater to the wealth creation needs of customers via collaborative business development with Nissay Asset Management.
  We will continue to promote Group management by seeking to strengthen initiatives with Group companies.
Human Resource Development as the Foundation
Developing our people is the foundation of everything we do at Nippon Life. Human resource development is a major focus to help employees find and develop their individual strengths and to realize their potential.
  Workforce diversity is the basis for the sustained growth of the enterprise. While cultivating mutual respect and ensuring all employees are motivated and enthusiastic at work, we are continuing to promote diversity, notably through increased participation of women and seniors. We are also developing health management initiatives to promote better health among executives, employees, customers and society.
Entering the Second Year of the Medium-Term Management Plan
In the fiscal year ended March 31, 2018, Nippon Life started the Medium-Term Management Plan Zen Shin — next stage. The plan's slogan is "Working to be the leading company in an era with an average life expectancy of 100 years." We have set four management targets for the fiscal year ended March 31, 2021 of 8% growth in annualized premiums in force, 14 million policyholders, ¥70 billion in net income from Group companies, and ¥6.5 trillion in equity.
  In the fiscal year ended March 31, 2018, we engaged in initiatives in every sector to achieve these targets, including the launch of several new insurance products, the development of compatible insurance franchises in areas such as healthcare, and efforts to generate synergies between Group companies. We made steady progress towards each of the targets: growth in annualized premiums in force was 2.8%, the number of policyholders increased by 42,000 to 13.81 million, net income from Group companies was ¥75.4 billion, and equity rose by ¥0.5 trillion to ¥5.8 trillion.
  The fiscal year ended March 31, 2019 is the second year of the medium-term management plan. It is important for us to build on the results we achieved in the first year to get closer to the plan targets.
  All Nippon Life executives and employees are working together to achieve these shared objectives.
In Closing
Our view is that the life insurance business has always been about providing customers with peace of mind and security. Taking this mission to heart, the executives and employees of the Nippon Life Group will strive to give support to customers in this new era when many people will live to be 100 years old, while also contributing to the development of local communities and society.
We ask for your continued support and patronage.
---