Top message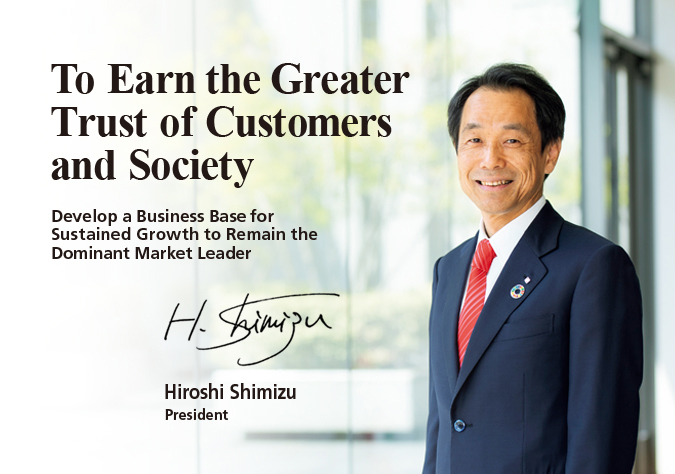 Introduction
I would like to open this message by expressing my heartfelt sympathies to those who have passed away from coronavirus disease 2019 (COVID-19), and extend my condolences to their family members. I would also like to extend my sincerest sympathies to all those who have been affected by COVID-19. Concurrently, I'd like to express my profound admiration and respect, along with my deepest gratitude, to the medical professionals who have been working selflessly and tirelessly on the medical front lines to examine and treat COVID-19 patients, and to all those who have been working throughout this pandemic to support the social infrastructure essential to our daily lives.
  The global COVID-19 pandemic has also caused significant disruption to economic activity and other areas of life. It is in times like these that I strongly take to heart our social mission as a life insurance company, which is based on the spirit of "co-existence, co-prosperity and mutualism." Nippon Life has implemented various support measures for customers nationwide, including special handling procedures such as granting extensions of premium payment deadlines and providing exemptions of interest payable on new policy loans.
  Even during the COVID-19 pandemic, we have been advancing various initiatives while continuing to put the strongest emphasis on our Customer-Oriented Operational Management Policy as before. Specifically, we aim to effectively address increasingly diverse customer needs, in addition to implementing various support measures related to COVID-19. To this end, we started providing new products and services in the current fiscal year, such as dementia coverage insurance and a diabetes prevention program.
  Furthermore, as the Chairperson of the Life Insurance Association of Japan (LIAJ), I led rigorous efforts by the entire life insurance industry to implement customer-first business operations beginning in July 2019. Specific measures included conducting questionnaire surveys about the systems and activities of member companies, compiling key observations and other insights from the surveys, and providing feedback to each company. Through these measures, we strove to raise the sophistication of customer-first business operations throughout the industry. Additionally, in the bancassurance channel, we sought to enhance follow-up services and confirmation of suitability by financial institutions. For this, we provided information on best practices to financial institutions and revised the relevant guidelines. Moreover, we worked to establish a training system for foreign currency-denominated insurance. We instituted a foreign currency-denominated insurance sales certification test, along with striving to standardize training for insurance agents pertaining to foreign currency-denominated insurance.
  In the environment surrounding the life insurance industry, we find ourselves amidst changes such as the progression of a declining and aging population, a constant ultra-low interest rate, and the rapid development of digitalization and advanced IT. Moreover, the COVID-19 pandemic could transform customers' patterns of behavior and their needs. In anticipation of changes in customers' awareness, advances in technology, and shifts in society, we will need to transform ourselves in order to remain a company that can address those changes effectively. By staying on top of these changes with flexibility and speed, we will strive to continue to deliver security to our customers.
  Under the state of emergency declaration issued in Japan from April to May 2020, sales representatives refrained from visiting customers. They confirmed customers' living circumstances and other conditions, and provided information on various special handling procedures and other matters via telephone and email. As far as customers' responses to these measures are concerned, while customers found that these remote services were convenient, we have confirmed that customers continue to strongly hold the view that they would prefer to consult on, and confirm, details and important matters concerning their policies in force, the coverage they will need in the future and other key information with sales representatives in person as before. We found that a single customer can have dual preferences for both remote and face-to-face services depending on the situation. I believe that this insight will be a key priority to consider when we explore how we should provide policyholder services in the future.
  Even in a society being reshaped by advances in digitalization,I believe that the strength of face-to-face services, i.e., our human strengths, will only become more and more valuable if we are able to put together a custom-made mix of face-to-face and remote services based on the individual preferences of every customer. For its part, Nippon Life will provide highly valuable consulting services for customers by accelerating the fusion of face-to-face and digital services.
Entering the Final Fiscal Year of Medium-Term Management Plan "Zen Shin - next stage - (2017-2020)"
In fiscal 2017, Nippon Life started Medium-Term Management Plan Zen Shin - next stage - (2017-2020). The plan's slogan is "Working to be the leading company in an era with an average life expectancy of 100 years." We have set four management targets for the end of fiscal 2020: annualized premiums in force of ¥4.5 trillion, 14.40 million customers, ¥70.0 billion in by Group company net income, and ¥6.5 trillion in equity. Guided by the plan, Nippon Life is implementing activities in various fields.
  Looking back at fiscal 2019, we worked to achieve the medium- term management plan's targets in each field, through measures including the launch of new insurance products, the development of new businesses highly compatible with the life insurance business, such as the healthcare business, the use of cutting-edge IT, and the capture of synergies between Group companies. As a result, we achieved three out of the four management targets one year ahead of schedule, with annualized premiums in force of ¥4.52 trillion, 14.48 million customers, and equity of ¥6.68 trillion. On the other hand, with regard to Group company net income, the Company posted a net loss by Group companies of ¥11.8 billion, due partly to the impact of the COVID-19 pandemic and temporary factors such as initial investments associated with the start of business at HANASAKU LIFE INSURANCE Co., Ltd.
  Fiscal 2020 is the final year of Medium-Term Management Plan Zen Shin - next stage - (2017-2020) and a crucial year of transition to our next medium-term management plan. Accordingly, we will continue working to implement three specific strategies laid out in fiscal 2018. The three strategies are strengthening profitability, operational and business reform, and the promotion of Group management.
Specific Strategy [1]: Strengthening Profitability
The first specific strategy is strengthening profitability. Our aim is to raise our sales capabilities in every channel and bolster Nippon Life's profitability from the perspectives of both asset management and the insurance business including strategies related to sales, services, and products.
Sales and Service
We are targeting increases in market share via growth in our customer base. To this end, we will continue to strengthen the sales representative channel, which is Nippon Life's greatest strength and core sales channel. At the same time, we will develop sales channels that respond to a variety of customer needs.
  Beginning in 2007, Nippon Life's sales representatives visit each customer once a year, confirm hospital visits or surgeries, and provide guidance on items such as policy content. Going forward, around 50,000 sales representatives will provide even more meticulous service by becoming more familiar with customers. We introduced the new mobile device TASKALL in April 2019. The N-Phone smartphone for sales representatives has been successively deployed from January 2020. By harnessing AI and other forms of IT through these devices, we are working to strengthen the response capabilities of sales representatives and improve customer service. Furthermore, to maintain and improve the level of our services, we have introduced a new training system to carefully cultivate each sales representative, and are implementing initiatives to further improve their knowledge and activities.
  We are also seeing sales channels other than the sales representative channel on the rise due to population trends, changing lifestyles, and greater diversity in the needs of customers. This is where we must respond to change, thus we will continue to develop various sales and service channels, including the network of Nissay Life Plaza retail outlets and the bancassurance channel that primarily services seniors and retirees requiring advice on inheritance or wealth creation. In addition, we are looking to further increase the market share for walk-in insurance agencies, which allow customers to compare insurance policies on their own.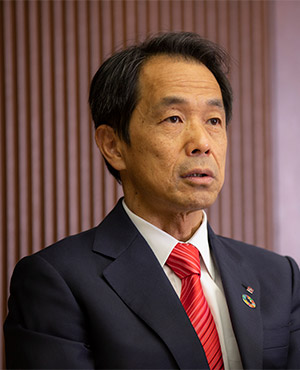 Product Strategies
Going forward, as customer needs evolve over time, we will continue to pursue development of products that are useful to customers and society.
  Mirai no Katachi, Nippon Life's core product, provides customers with lifelong support by allowing them to flexibly combine 14 types of insurance as needed. This enables customers to prepare for not only "death risk," but also an increasingly diverse array of other risks. NEW in 1, a new general hospitalization insurance that prepares for situations such as hospitalization and outpatient surgery, was added to the Mirai no Katachi series from April 2019. NEW in 1 has proven highly popular with customers, notably for making it possible to receive a rounded lump-sum payment rather than day-by-day payments starting from the first day of hospitalization for patients who return home on the same day. For NEW in 1, the number of policies sold has surpassed 1 million*1.
  Moreover, Ninchisho Support Plus, a new dementia coverage insurance product, was added to the Mirai no Katachi series in April 2020. This product was developed in response to a higher level of need for insurance protection against the risk of dementia, an urgent concern in an era with an average life expectancy of 100. The product stands out for offering a lumpsum payment if a customer is diagnosed with dementia or even if a customer is diagnosed with Mild Cognitive Impairment (MCI), the stage of progression before dementia. Moreover, we also provide an app that is capable of checking cognitive performance using only a person's voice, the first ancillary service of its kind in the life insurance industry. In this manner, the dementia coverage insurance product Ninchisho Support Plus is a product and service that supports the early detection of dementia and the prevention of severe dementia cases.
  In order to address a growing diversity of needs promptly and meticulously, we established a framework of four domestic life insurance companies. The four companies are Nippon Life, TAIJU LIFE INSURANCE COMPANY LIMITED, Nippon Wealth Life Insurance Company Limited and HANASAKU LIFE, which started business in April 2019. Nippon Life and TAIJU LIFE will seek to provide high-quality products and services as they make a mutual supply of products available to one another. In addition, under this framework, Nippon Wealth Life will mainly assume responsibility for the bancassurance channel, while HANASAKU LIFE will be mainly responsible for the life insurance agency channel. Going forward, Nippon Life will continue to make a concerted Group-wide effort to flexibly propose an expansive lineup of products.
Asset Management
In addition to a prolonged low interest rate environment worldwide, the financial and economic environment is facing increasing uncertainty due to factors including the global COVID-19 pandemic. In order to ensure long-term stable investment returns even in such a challenging asset management environment, we are working to strengthen profitability through globally diversified investment, along with striving to bolster our risk-response capabilities through stringent risk management.
  In fiscal 2019, we pushed ahead with diversified investment in the overseas and credit domains and in growing and new domains. As a result, we secured a positive spread in the investment yield margin for the tenth consecutive year. In order to enhance the investment yield, we had previously established numerical targets for investing ¥2 trillion in new and growth domains and ¥700.0 billion in ESG investment and finance over 4 years. We achieved these targets roughly one year ahead of schedule. In the bancassurance channel, we have been working to put together an effective product lineup. Notably, we have continued to supply yen-denominated products, which have enjoyed firm demand from customers owing to improved asset management capabilities.
  While targeting more advanced asset management in such ways, we are also working to reinforce our risk management. We will prepare for every conceivable type of risk. To do so, we will identify potential risk events that are expected to have a large impact on profitability and financial soundness, and rigorously implement forward-looking risk management by considering and conducting the necessary response measures. We will also continue to fulfill our responsibilities as an institutional investor by upgrading our stewardship activities.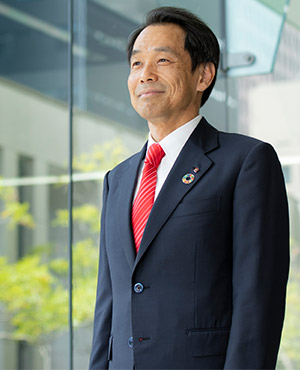 Specific Strategy [2]: Operational and Business Reform
The second specific strategy is operational and business reform. In the past few years, IT has advanced and digital technologies have made inroads into society and how people participate in society. I believe that we are entering an age when life without digital technology has become unthinkable. In short, the "No Digital Technology, No Life" era is now upon us.
  We have been actively proceeding with initiatives related to digitalization for some time now. To this end, we achieved paperless operations for new policy processing in 2012, and lead the industry in terms of the number of RPA introductions. From fiscal 2019, we have set out to accelerate our initiatives to promote digitalization and the use of cutting-edge IT. To do so, we launched the Next Value Project, a digital five-year plan. Under this plan, we have been working to boost work efficiency, enhance customer convenience, increase the productivity of sales representatives and other staff, expand business and launch new businesses.
  Moreover, in order to keep pace with an evolving business environment driven by cutting-edge IT innovation, the Innovation Office was set up in fiscal 2018 as a dedicated unit to address FinTech. Furthermore, in April 2020, we established the open innovation hub, Nippon Life X, to create new business for the Nippon Life Group and started activities from four global corners (Tokyo, Silicon Valley, London and Beijing). Nippon Life X will carry out not only activities in the life insurance field, but also initiatives focused on the main themes of healthy minds and bodies, work, and asset formation, among other areas.
  To illustrate one specific business reform-related measure, we initiated a diabetes prevention program service in July 2020. This program is designed to help prevent the onset of diabetes and promote good health. It works by having program participants utilize devices and tools supplied by our partner companies to conduct self-monitoring of their own health, while public health nurses at Nippon Life Hospital and other institutions provide remote advice to participants on improving their lifestyles. Based on the relationships of trust we have developed with stakeholders such as customers, client companies, and local governments, we first aim to build up a user base of more than 10,000 people in total over the next 3 years.
  Efforts to accelerate the use of digital technology in all manner of areas, such as innovation measures and the diabetes prevention program, will definitely lead to stronger competitiveness in the future. Moreover, our key measures in the sales representative channel, our core sales channel, are to further hone our face-to-face activities and to bring digital technology onboard and integrate face-to-face activities and digital technology. Through these measures, Nippon Life will establish itself as a dominant market leader. That is the strategy for the future I envision. Going forward, we will push ahead with operational and business reform through these measures. By doing so, we would like to make this reform the engine behind our growth.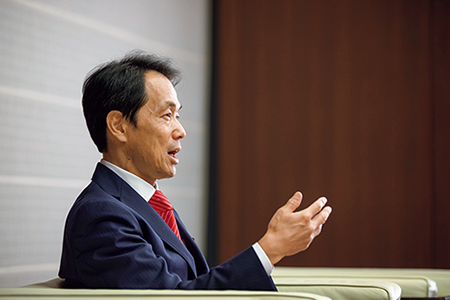 Specific Strategy [3]: Promotion of Group Management
The third specific strategy is promotion of Group management.
  The ultimate management goal for a mutual insurer such as Nippon Life is to maximize benefits for policyholders. We believe that Group initiatives are one way to achieve those goals. Specifically, we are looking to foster synergies within the Group based around our life insurance and asset management businesses in Japan and overseas, while also targeting the development of Group operations. In this way, we aim to generate stable income based on a diversified business base, while leveraging the Group to provide customers with the best products and services.
  In the life insurance business, together with TAIJU LIFE, we are taking on mutual supply of multiple products in the sales representative channel and enhancements to the product lineups of both companies. The overall Nippon Life Group, along with Nippon Wealth Life, is striving to continue to address customer needs by swiftly providing products in the bancassurance field and enhancing support to financial institutions. In the agency field, we began operations at HANASAKU LIFE in April 2019, in order to flexibly supply products that accurately capture customer needs. HANASAKU LIFE has started sales of medical insurance and other products, which have been well received by many customers. Through these four domestic life insurance companies, we will utilize the strengths of each company to increase our sales capabilities as the Nippon Life Group and pioneer emerging markets.
  In the asset management business, we are responding to customer needs for asset formation by improving our operative capabilities through collaboration with Nissay Asset Management Corporation in Japan and overseas asset management companies such as The TCW Group, Inc. in the US. We are also taking steps to capture synergies between Group companies. In November 2019, TAIJU LIFE's securities administration-related clerical work was integrated into Nippon Life. Additionally, the asset management functions of Nippon Life and TAIJU LIFE in credit investment and alternative investment will be transferred to Nissay Asset Management from 2021 onward. By centralizing resources, expertise and other elements, we will work to strengthen our asset management framework.
  Additionally, in overseas business, we have been working to diversify and expand the Group's business by making investments in the Australian insurance company MLC Limited, TCW in the US and other companies. Moreover, in August 2019, Nippon Life converted Reliance Nippon Life Asset Management Limited*2 in India into a subsidiary. In September 2019, Nippon Life turned Grand Guardian Life Insurance Company Limited*3 in Myanmar into an affiliate. Consequently, as of March 31, 2020, Nippon Life conducts insurance- related business in 7 countries and asset management-related business in 4 countries, bringing the total number of companies engaged in overseas business in the Nippon Life Group to 14. As overseas business assumes increasingly greater roles, we will need to further strengthen the governance system for overseas Group companies. To this end, the Global Business Risk and Control Office was reorganized into the Global Business Risk and Control Dept. in fiscal 2020. The Global Business Risk and Control Dept. will provide guidance and advice based on the characteristics of overseas businesses, while working in close coordination with the organizations responsible for risk management, compliance and related areas.
  Along with each Group company striving for growth in their respective business, we will continue to build strategies together as a whole, tied to further improvements in sales and operational capabilities for the overall Nippon Life Group.
Developing Our People Is the Foundation of Everything We Do
Developing our people is the foundation of everything we do at Nippon Life. I myself take the lead, and work on human resource development to help employees develop their individual strengths and realize their potential. Workforce diversity is the basis for the sustained growth of the enterprise. While cultivating mutual respect and ensuring all employees are motivated and enthusiastic at work, we are continuing to promote diversity and inclusion, notably through increased participation of women and seniors. In addition, we are also developing Health and Productivity Management initiatives to promote better health among customers, society, executives and employees.
  Looking at the advancement of women, we achieved our target for the ratio of female managers of 20% at the beginning of fiscal 2020. This target was laid out in the Action Plan for Promoting Female Employment, which was formulated in fiscal 2016. Going forward, as part of a new action plan, we are targeting a ratio of female managers of 30% in the 2020s, and a ratio of women in positions equivalent to department manager or above of around 10% at the beginning of fiscal 2030. We will continue to promote diversity and inclusion, beginning with efforts to drive women's advancement.
"Stay closest to your thoughts for beloved ones."
In an era when customers are living past the age of 100, Nippon Life's corporate message is to "stay closest to your thoughts for beloved ones," and our desire is to "be the most familiar and approachable life insurance company" for our customers, and we aim to achieve this by supporting customers throughout the entire Nippon Life Group.
  Taking this philosophy to heart, every Nippon Life employee and executive officer will continue to provide customers with face-to-face services that address their particular needs. Furthermore, to contribute to the formation of improved communities and a better society, we will conclude agreements with local governments throughout Japan concerning a wide range of fields including Health and Productivity Management, while continuing the "Action CSR-V: Social Contributions by 70,000 People" campaign.
  Furthermore, as a Gold Partner (life insurance) for the Tokyo 2020 Olympic and Paralympic Games, we have developed various initiatives across Japan to spread the Olympic and Paralympic movement under the slogan of "Let's all begin to play and support." While the Olympic and Paralympic Games were suspended in response to the COVID-19 pandemic, the revitalization of communities through sports will remain a continuing priority at Nippon Life.
In Closing
Nippon Life has been carrying out sound management based on the spirit of "co-existence, co-prosperity and mutualism," which we have embraced since our founding. Even when there have been major disasters, pandemics and financial crises, we have endeavored with a strong sense of mission to support all those who have been affected by such events with steady and swift payments of insurance claims and benefits.
  The foundation of the life insurance business is to fulfill our long-term coverage responsibilities to customers and deliver security to them. This has not changed in the past, nor will it change in the future. The previous fiscal year was a period when we made every effort to implement a Customer-Oriented Operational Management Policy, but there is no final goal to this endeavor. Going forward, we will continue to tirelessly develop our activities based on a rigorous customer-oriented approach in all fields, as we do our utmost to earn the trust of our customers.
  The current environment surrounding the life insurance and financial industries has entered an era of major upheaval. Among a myriad of changes, we face the possibility of major shifts in customers' patterns of behavior and needs, driven by factors such as changes in the social structure and advances in IT. Even in such times, there will be no change in our foundation of delivering security to customers through the Customer-Oriented Operational Management Policy. Meanwhile, we intend to continue to embrace changes positively and boldly without being daunted by these tumultuous times, as we remain committed to fulfilling customer needs.
  We ask for your continued support and patronage.
---