Annual Report
NISSAY ANNUAL REPORT 2019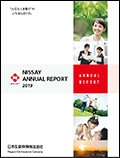 Nippon Life Insurance Company's 130-Year History
Nippon Life Group's Stakeholders
Overview of the Nippon Life Group
Business Performance Highlights
Top Message
Nippon Life's Value Creation Model
Nippon Life's Sustainability Management
Overview of the Medium-Term Management Plan "Zen Shin -Next Stage- (2017-2020)"
Domestic Insurance Business:Individual Insurance
Domestic Insurance Business:Corporate Insurance
Customer Service
Asset Management
Overseas Business
ERM
Advanced IT Utilization
Human Resource Development
Promoting Health Management
Timely Disclosure of Information for Investors
Initiatives for Communities, Society, and the Environment
Main Business Details
Company History
Organization
Employee Highlights
Products and Services for Individuals
Products and Services for Corporate Customers
From Application to Conclusion of a Policy
Requesting Payment of Insurance Claims and Benefits
Nippon Life's Solicitation Policy
Personal Information Protection Policy (Handling Customers' Personal Information)
Financial Statements

Consolidated Financial Statements

Consolidated Balance Sheets
Consolidated Statements of Income
Consolidated Statements of Comprehensive Income
Consolidated Statements of Changes in Net Assets
Consolidated Statements of Cash Flows
Notes to the Consolidated Financial Statements

Nonconsolidated Financial Statements

Nonconsolidated Balance Sheets
Nonconsolidated Statements of Income
Nonconsolidated Statements of Changes in Net Assets
Nonconsolidated Proposed Appropriations of Surplus
Notes to the Nonconsolidated Financial Statements

Independent Auditor's Report
Operational Statements

Status of Financial Assets (Consolidated)
Status of Financial Assets (Nonconsolidated)
Main Business Indicators
Insurance Policy Indicators
Accounting Indicators
Indicators Related to Investment (General Account)
Securities Indicators (General Account)
Separate Account Indicators
 Status of Separate Account for Individual Variable Insurance
 Status of Separate Account for Individual Variable Annuities
 Status of Separate Account for Group Annuities
Policyholder Protection Systems
Worldwide Network
Company Profile
Please note:These files are in Adobe Acrobat Format. To view them, you will need to download the Acrobat Reader, which is provided free by Adobe Systems Incorporated. Adobe, Acrobat Reader, and the Acrobat logo are trademarks of Adobe Systems Incorporated.